Posted Wednesday, March 20th 2013 @ 11am
Growing up, I spent every Saturday evening with my grandparents so Mommy and Daddy could go and play! My grandmother would record, on a VCR (remember that thing?), episodes of the "Golden Girls" and we would watch them back before going to sleep. So yes, I was that 6 year old who LOVED the Golden Girls. And it's needless to say that to this day I continue to watch the reruns whenever they are on.
Huffingtonpost.com posted these cookies today created by a company called "Semi Sweet." They were designed to celebrate the company's one year blog anniversay to say thank you to all their readers...Get it? "Thank you for being a friend." It's the theme song!!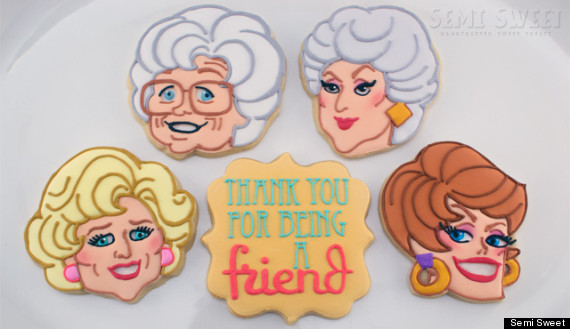 I'm not sure that these cookies could be any more perfect! Unfortunately they are NOT for sale! But I think I am going to have to call somebody! I HAVE TO HAVE THESE!! TOO CUTE!
And by the way...Thank YOU for being our friend and checking out our blogs!